Imagine waking up every morning in a city lacking pollution and overcrowding, while from your doorstep you can watch the sun rise over the Indian Ocean.
That is the picture a Ministry of Education advertisement painted of Auckland in an attempt to entice global educational psychologists to this country.
The Government-branded blurb, which has since been corrected, targeted candidates from the United Kingdom. It also touted a salary of between $88,652 and $106,000 for a role worth about $70,773.
It also appears the author of the Education Ministry advert was somewhat lacking in education when it came to spelling, as the text was not immune to typos.
JEFF BELL
"Have you ever dreamed on [sic] working abroad and waking up every morning with the sun shining and the Indian ocean [sic] at your doorstep?", the advertisement read.
READ MORE:
* Abusive practices identified at daycare centres
* Preschool investigated after child death
​* Ministry of Education withholding complaints
It was released in response to an Official Information Act (OIA) request, which revealed the ministry employed UK-based recruitment agency Hampton's Resourcing to run an "end-to-end process up to the final interviews" to find 10 or more suitable employees.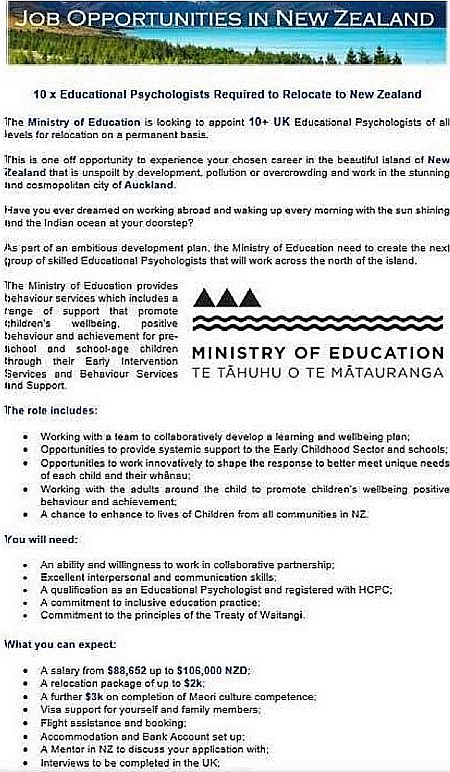 Once the positions have been filled, the Government will have to hand over an estimated $127,391.40 to Hampton's Resourcing, which charged 18 per cent of each psychologist's first year's salary for its services.
"As part of an ambitious development plan, the Ministry of Education need to create the next group of skilled Educational Psychologists that will work across the north of the island," the advertisement said.
Katrina Casey, deputy secretary sector of enablement and support for the Education Ministry, admitted there were a number of inaccuracies in the initial advertisement for qualified and experienced psychologists.
But it was quickly removed and replaced once the ministry was notified, she said.
Casey admitted the ministry did not check the wording of the advertisements because Hampton's was employed to "advertise, receive enquiries, manage ongoing contact with prospective applicants and, from a long list, identify a suitable shortlist for the ministry to interview".
It was the first time the ministry had used Hampton's Resourcing for its services.
New Zealand Psychological Society president Quentin Abraham said the organisation flagged the errors with the ministry.
SIMON MAUDE/FAIRFAX NZ
While it was positive to see the Government was quick to correct the advertisement, he was disappointed it had not worked with them before the blurb was issued, he said.
"They've taken quite radical steps to try and do something about that problem. I'm just disappointed that they didn't really discuss that with us."
With just two places in New Zealand where educational psychologists can be trained, Abraham said whether to employ overseas people with these skills, "or train our own" should be questioned.
123rf
Casey said targeting overseas employees was done to tackle recruitment difficulties within the country and provide care for another 1000 students under 8-years-old.
"Around 120 people have expressed an interest in the positions advertised. We expect to start interviewing for the roles next month."
National's education spokeswoman Nikki Kaye said having mistakes in advertisements aimed at attracting high-calibre people was "not acceptable".
RICKY WILSON/STUFF
But it was worth looking at the bigger picture, which was to incentivise overseas employees to better attract candidates, she said.
By 2019, the Government expects to employ another 52 behavioural needs specialists, psychologists, special education advisors and service managers.
Hampton's Resourcing has been approached for comment.

 – Stuff