It was a beautiful delivery that sent Alastair Cook on his way. Ravi Ashwin had been introduced by India for the seventh over of the Test and with his 11th ball he got one to drift in a touch, grip the surface and shoot past his victim's outside edge as he lunged forward, before rattling the Tipp-Ex-white off stump. As the tourists celebrated, the commentators purred and Virat Kohli enjoyed a Hannibal Smith‑style grin at a plan coming together.
Cook was sanguine. There was no wide-eyed gasp – as Kohli had offered when castled by Adil Rashid in the one-dayer at Headingley – just a rueful clench of the jaw and flicker of the eyelids before trudging back to the pavilion.
Cook is a pretty relaxed character these days. Before this Test, asked by an Indian journalist about his current "headspace" compared to the last meeting between the two sides when he was constantly being questioned about his future as captain, he joked the chief difference was that the questions have simply switched to when he will retire.
According to Deepu Narayanan, the stats wizard at Cricbuzz, this was the first time since Anil Kumble had Australia's Phil Jaques stumped at the MCG in 2007 that India's initial wicket-taker in a series outside of Asia has been a spinner, while against England you have to go back to 1986, when Tim Robinson was removed by Maninder Singh at Lord's.
While Cook was dissecting his demise – the eighth time Ashwin has thwarted him in 12 encounters – those looking on were wondering whether both teams had goofed by going into the match with one frontline spinner apiece on a pitch that, in the build-up, had been gawped at like a magic eye poster by players and coaches.
For India the men left out were Ravi Jadeja, the hipster-bearded left-armer who sits third in the world rankings, and Kuldeep Yadav, whose left-arm wrist-spin was slowly decoded during the limited-overs series. As Ashwin set about unpicking three more Englishman – Jos Buttler was out lbw for a second‑ball duck, Ben Stokes bunted back a return catch on 21 and Stuart Broad was pinned in front by a quicker one – the case for Jadeja in particular, rather than the fast‑medium all-rounder Hardik Pandya, grew stronger.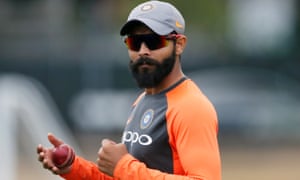 England, meanwhile, had sent Moeen Ali off to play Twenty20 for Worcestershire with Rashid flying solo on his much-chuntered-about return to the side. Had they gone for two spinners, Dawid Malan would have sat out, with Ed Smith, the national selector, admitting as much when stating he had been "retained in the squad" rather than the XI per se.
When the Middlesex captain was snared lbw by the bustling Mohammad Shami for eight during the afternoon session, having already survived a review by Kohli off Ashwin, it called into question this final decision by the England captain and head coach for it is they, not Smith, who whittle down the 13 by two in this system.
Up to this point during a year‑long ride in the Test team, Malan has managed to avoid being the England batsman whose worth is the subject of debate. During the Ashes it was by some distance because he was their leading run scorer, but elsewhere there has tended to be a more vulnerable teammate, be it the quirky technique of Tom Westley last summer or Mark Stoneman in New Zealand, before Pakistan at Lord's brought the hook.
There is time for some of the conclusions above to be flipped, not least by Malan, who gets another chance to show that his back-foot game, as some believe, is not simply suited to flatter pitches in the southern hemisphere. But Ashwin's day one success suggests that two slightly flawed teams, as regards their selections, will be slugging it out and that in itself should make this opening Test fascinating.